Billboards introduction
You cannot miss our billboards as they are build with attention to details, with nice blue frame and sturdy zinc base. Selected billboards are also well lit.
euroAWK offers approximately
2.000 Billboards accross whole CR
Desired audiences are targeted at the best places: radial communications, arterial roads, in close vicinity of shopping malls.
Our unmatched customer service includes, among other services, for example printing of posters, plastic films, or banners for reasonable price. There is also a possibility to build 2D (extension of advertising motive in length or height beyond billboard size) by or 3D (emphasize the motive in space) superstructure.
All campaigns start on the first day of month and standard length of the campaign is 28 days.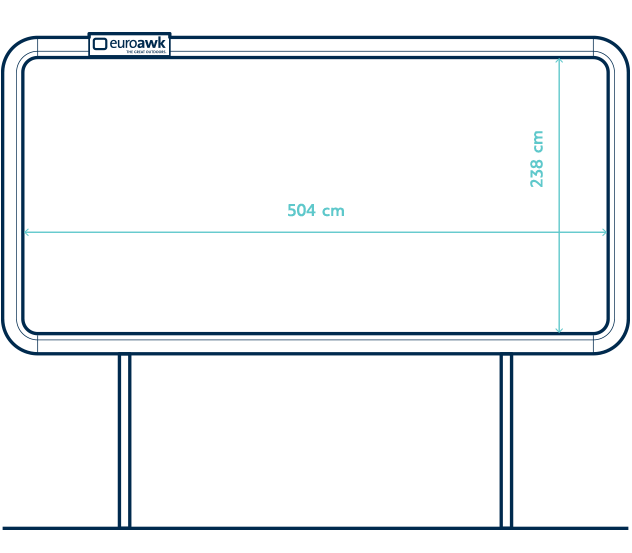 Size for printing and data:

5,04 x 2,38 m
Printing material:

120g BBS paper; PVC folie; 450g banner
Fonts:

converted into curves
Texts:

at least 12 cm from bleed
Size (for paper printing):

1:10 (504 x 238 mm), 5 mm bleed from each side
Size (for printing on folie/banner):

1:10 (500 x 238 mm), 5 mm bleed from each side
Warning
: Illegal string offset 'uri' in
/var/www/clients/data/www/euroawk.cz/_temp/smarty_templates/eaffe67c8b1e323b6270db43292b60061754c66b_0.file.text_specification.tpl.php
on line
94
Number of posters
Moravian-Silesian region
232
Central Bohemian region
55
Try your own motive
Test the strength of your motive on our poster 
Contact us
Please let us know your needs and we will get back to you.